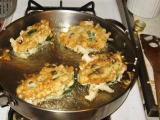 This is some EASY cooking -- feeling tired today but want something tasty for supper? This might just be your ticket!
Directions
Brown the ground beef in a cooking pot and drain off the fat.
Add the corn (with the juice that it's in), tomato soup, chilies, and taco seasoning.
Bring to a boil and then reduce heat to a simmer. Allow to simmer, covered, for 25-30 minutes.
If you want it a little thinner, add some chicken broth while it's cooking.
Can be served with tortillas for dipping.
Most Helpful
Great Recipe. It was very yummy. I added ground Chicken because that's all I had in the freezer and a can of diced tomato's. Excellent and Easy. We ate the whole pot in one sitting. :)
You"re right, it is a no brain-er but that add to it's beauty! One could easily throw this together after work, add some tortilla chips and a little grated cheddar cheese plus a side salad and you"re good to go. I only had one can of corn so I added the equivalent amount of frozen corn and a little more chicken broth. I also added a little cumin just because I love it. The ingredients are pantry /freezer staples which adds to ease of prep. Since I'm only cooking for 2, I froze half for later. I'll let you know how that works out. Thanks for this tasty soup and making my life easier!