No-Boil Cheesy Lasagna (Vegetarian) With Optional Meat Sauce
Jubes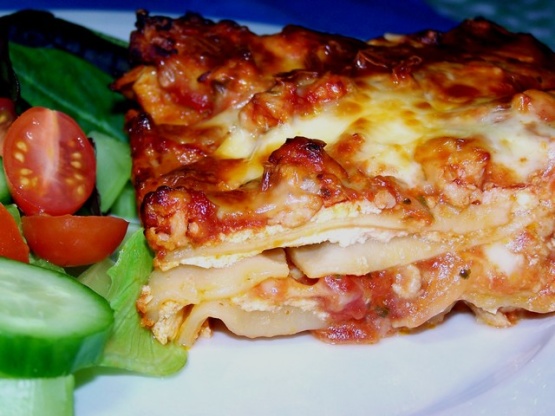 Adapted the Martha Gooch package of regular lasagna. My sister says lasagna packaged as "no-boil" is a scam! :lol: I make the meat sauce by frying up 1/2 - 1 pound of meat (usually gound turkey), pouring a 26 oz can of pasta sauce in it, and heating it through.
This is a good recipe. The one I use is from R-F lasagna box and another one I've used is from a woman's magazine of years ago. It added about 1 c. water and here in CO I've found that works the best. I never made lasagna before I found these recipes. Adding most of the mozzarella to the ricotta mix works good too leaving some for the top.
Preheat oven to 350°F.
Combine ricotta, parmesan, and eggs and mix well.
In a 9x13 dish, spread about 1/3 of the sauce. (About 1 cup.).
Layer with half each of the uncooked lasagna noodles, ricotta mixture, remaining pasta sauce, and mozarella.
Repeat layering.
Cover tightly with alumninum foil and bake covered for 45 minutes.
Uncover and bake an additional 15 minutes.
Let stand 10 minutes before serving.