paublina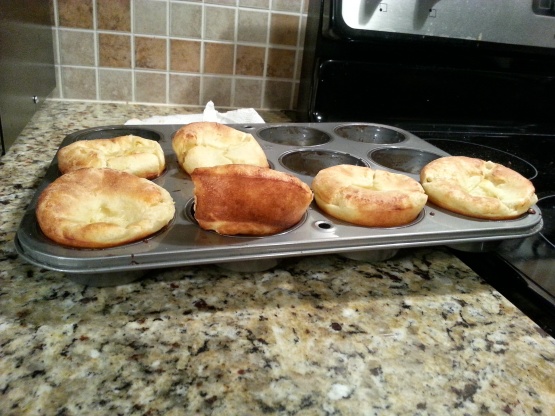 The secret of these is to start with a cold oven and not to peek for the entire baking time. Delicious and super simple to make. We like them for breakfast with butter and honey or strawberry jam. To clarify, I have a popover pan that makes 6, big, tall popovers with this recipe, that is what is in the picture. You will get more and may have to adjust the baking time less if you use muffin pans as they will not be as high as the actual popover pans.

Super easy to make and mmmm delicious! (And that's coming from a non-cook) I bake mine using a silicone muffin pan (grease only the bottom) - and the popovers fluff up nicely. (I could be wrong, but it also seems to turn out better when I whip the eggs & milk before adding in flour.) I have made this recipe a few times now and it has turned out fine every time. (I especially like that I can dump it into the muffin pan - lumpy batter & all and then into the oven - no hassle cooking!)
Break eggs in a bowl.
Add milk, flour and salt.
Mix well with a spoon, disregarding lumps.
Fill greased popover pans or muffin tins ¾ full.
Put into oven.
Set control to 450 and turn on heat.
Bake 30 minutes.