No-Bake Tuna Noodle Casserole - Midwest
Bergy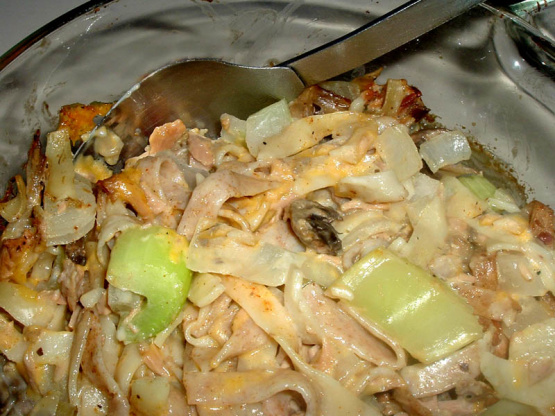 This is a take on the Tuna Noodle Casserole my mom used to bake my brother and I when we were kids. It was the first meal I ever cooked for myself (when I was in college). Being lazy, impatient and hungry, I figured why bake it? The cheese must be extra sharp...mild or sharp just don't cut it. This recipe is so easily adaptable. Really like tuna? Use a bigger can. Don't like tuna? Use shredded chicken. Have broccoli you need to use? Use broccoli. It's definitely not low-cal, but it is quick and tasty comfort food!

Tuna casserole is 1 of those tried & true comfort foods we all recall from our childhood. This did not disappoint as a 1 pan stovetop NY DAY & I AM LAZY MEAL. I used rice instead of noodles, leek for the onion, leftover broccoli as mentioned in your intro & topped it w/crispy fried onions b4 serving. I will enjoy leftovers for my lunch tomorrow. Thx for posting this for us.
Cook noodles for approximately 10 minutes in salted water and drain when finished-- while noodle are cooking --.
In large pot (enough to hold the sauce and cooked noodles) sauté mushrooms for 3 or 4 minutes, add onion and sauté for another minute or two. It's nice to have a little crunch left in the onions. Drain any liquid.
Add cream of mushroom soup to pot. As soon as it is hot, add shredded cheddar cheese. Continuously stir. When cheese is melted, add tuna and celery. (I don't cook the celery, only because I like the crunch of the raw celery). Mix well. When mixture is heated through and cheese is completely melted, take off of burner.
Drain noodles and add to mixture. I always add the noodles to the mixture (not the other way around), so that if I made too many noodles I don't add them all to the sauce. Stir all ingredients together. Salt and pepper to taste.
* You can make this a one-pot dish if you cook and drain noodles first. Then use the same pot to cook the sauce. It will obviously add about ten minutes to the cooking time.