No Bake Rocky Road Cookies
CoffeeB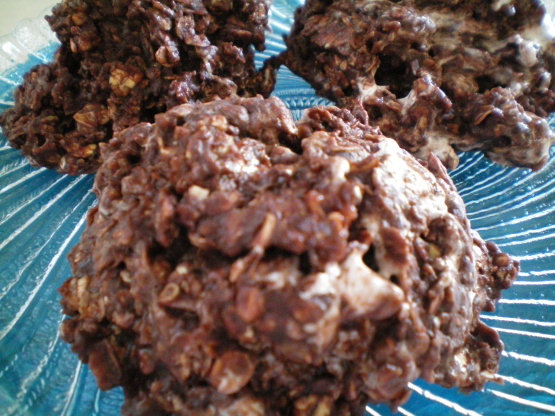 My 4-year old daughter actually had the idea for this little twist on an old favorite. We were making regular no bake cookies and she said "Mommy, I want some marshmallows in it." Next time I make them I am going to substitute graham cracker crumbs for the oats to make S'more cookies!

I think these are wonderful spin-off to the traditional no=bake and my recipe#252047. I love the additional marshmellow. I think even a bit more p.b. next time and as you even suggested adding graham cracker crumbs. Maybe a combo of both oats and/or graham crumbs. So many possibilites. Thanks for sharing this recipe Emmy. 5 stars for the creativity.~ Tagged and made for Spring's PAC 08'
Combine sugar, cocoa, butter, and milk in large pan and boil for 3 minutes stirring constantly.
Remove from heat. stir in peanu butter, vanilla, and oats.
Gently fold in marshmallows.
Either spread in buttered pan or drop onto wax paper or pan sprayed with non-stick spray.
Refrigerate until firm.