karen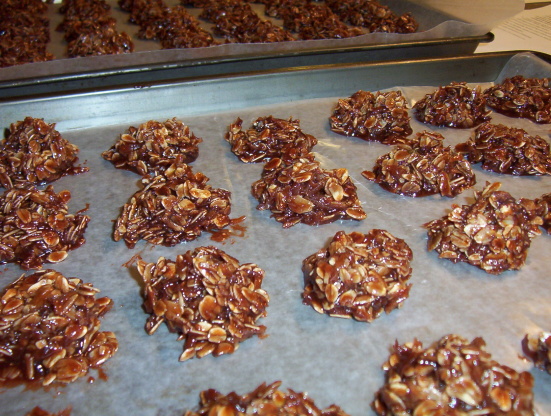 These are my mother-in-law's macaroons. This is a great no-bake recipe which is easy to make, freezes well, and tastes heavenly. 01/26/07---When scooping these cookies, make sure the batter isn't too liquidy. The batter should be thick. If you use quick oats, you may run the risk of attaining a crumbly batter as I did the last time I made these- no problem. Just add a bit of milk, blending thoroughly after each tablespoon. Then, using a cookie scoop or tablespoon measure, press the batter into the scoop with either your fingers or the back of a spoon to make it hold together then drop them onto the waxed paper and proceed as described below (if you are using a tablespoon measure, you may need to tap it against the cookie sheet to get the batter to drop out).

these are the ones i have been looking for/ the only diff is that i think my neihbor used condensed milk...but that could be a childs memory. very nice, thanks so much for posting them
Bring the milk, sugar and butter to the point of boiling in a large sauce pan.
Stir and let boil for two minutes.
Remove from heat and add all the other ingredients. Stir them in until the batter is completely blended.
Drop rounded tablespoons full of batter onto a cookie sheet lined with waxed paper.
Let them solidify at room temperature (about 30 minutes) and then transfer cookies to a plate or container and keep refrigerated.