DeeDee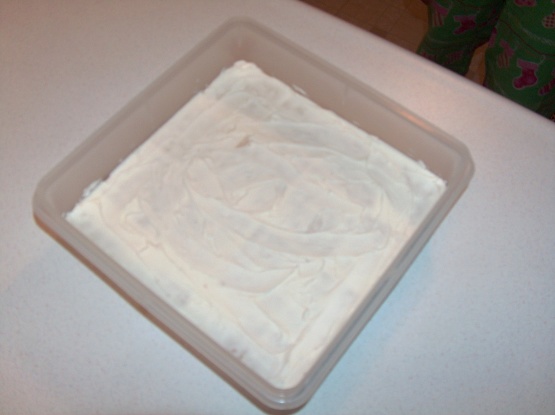 I learned this recipe at school in my home economics class many, many years ago. It was such a hit, it was my job to make these on every special occasion. They are very tart with the lemon juice. You can use either fresh squeezed lemon or lemon juice from the bottle. I find that fresh lemons are a hit and miss with the strength of the tartness so I generally use the bottled juice. If you use fresh, you can also grate some lemon peel into the filling.

This was very easy to prepare and the results are delicious. I used fresh lemons and an 8"x8" square pan, therefore my squares are thicker. The filling is extremely tart and the icing is needed to balance out the flavour. Thanks for posting a new summer favourite.
FILLING.
In a small bowl, mix Condensed Milk with the 1/4 cup Lemon Juice. It will appear runny at first but when it sits, it thickens. Set aside.
In a square container (I use a Tupperware square container that I can seal with the lid) line with graham crackers. You will have to cut some crackers to fit. Take a bread and butter knife and gently saw through the cracker until it cuts through.
Top with the lemon mixture.
Top the lemon mixture with another layer of graham crackers. Again, you will have to cut some to fit around the edges.
ICING.
Cream the butter with a bit of the icing sugar until there are no lumps left. Add more icing sugar a bit at a time until it's too hard to stir. Add a tsp of lemon juice and mix until smooth again and no lumps remain. Keep alternating icing sugar and lemon juice until its of spreading consistency.
Spread over top layer of graham crackers.
Cover and let sit over night.
Cut into squares and enjoy.