Marz7215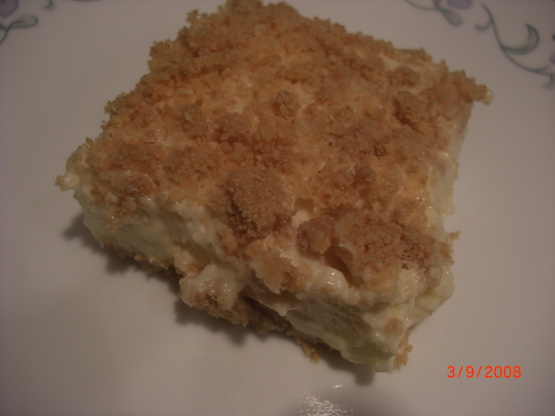 This is another recipe from my Mother-in-Law. It is delicious and refreshing ! My whole family LOVES it !!!

Glaucia, this was VERY VERY good! It was so light and ever so light taste of lemon. So easy to make, the whole family really enjoyed this one! I used the lighter cream cheese, and you can't even tell! That is my kind of dessert! Thanks for sharing with us. Made this for the Aussie/Kiwi recipe swap 2008.
CRUST: Mix ingredients together and press 2/3 of the mixture into bottom of a 9X13-inch pan.
FILLING:Disolve jell-o in boiling water. Let it cool. Add the lemon juice.
In a medium bowl, cream the sugar, salt and cream cheese with a mixer . Add the jell-o mixture and set aside.
In a large bowl ( I use a glass chilled one ), beat the Milnot until stif peaks form. Fold in the cream cheese mixture.
Pour it into the prepared glass pan. Sprinkle the remaining graham crackers mixture on top. Cover with plastic wrap and take to the freezer until firm ( about 4 hours ).
Cut in squares to serve.