No Bake Crunchy Chocolate Treasures
Jostlori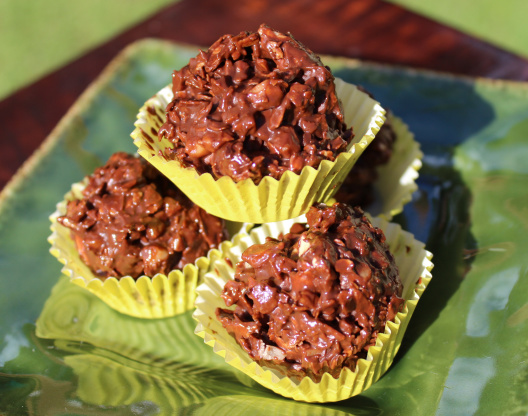 Your friends and family will be left guessing what the yummy crunchy ingredient is! I make a cookie tray every Christmas and these are always the first ones to get eaten. EASY to make. People will be asking for you to make these every year!

It's got Nutella, what could possibly be bad??? This recipe didn't let me down - and I know it will be on my Christmas Favorites list! Made these exactly as written, except I had to leave out the nuts since I can't eat them. Also, we can't get sugar cones here, so I used plain "Pirouettes" type cookies that I broke into bite-sized pieces. Half the recipe made 15 candies, using a 1.5 inch ice-cream scoop, but that's because I left out the nuts. The scoop was fabulous, as the candy fell right out in a perfect dome into the wrappers, which were prepped in a mini-muffin tin. It's too warm here in Costa Rica, so they needed the fridge to set, and also for storage. For next time, I think the addition of chopped dried cherries or cranberries would be an excellent substitute for the nuts in this recipe. Thanks so much for posting a great candy recipe! Made for My Three Chefs 2013.
12

sugar ice cream cones
1⁄2 cup chopped peanuts
3⁄4 cup chocolate, covered toffee bits

1

cup semisweet chocolate chips
1⁄3 cup nutella, hazelnut spread

42

foil liners
colored sprinkles (optional)
Place sugar cones in a food storage bag. Seal bag. Crush cones with a rolling pin until pieces are bite size.
Combine crushed sugar cones, chopped peanuts and toffee pieces in a medium bowl and set aside.
Place chocolate chips in a microsafe bowl and microwave on high for 1 to 1 1/2 minutes. Stir until smooth.
Immediately fold in the nutella and fold in the sugar cone,toffee and nut mixture until well coated.
Scoop or drop one tablespoon mixture in each liner. Top with sprinkles if desired.
Refrigerate two hours before serving. Store in an airtight container.