No Bake Chow Mein Noodle Cookies
jessmhow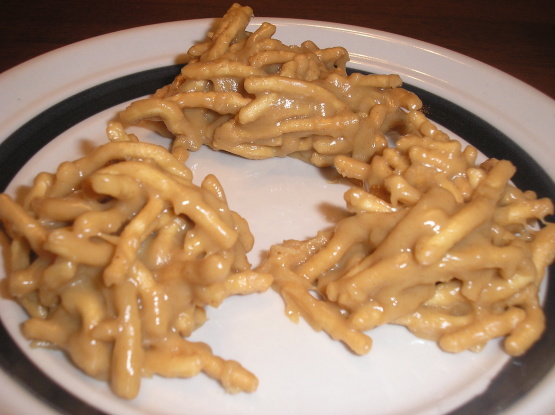 This is a quick and simple no-bake cookie that I used often as my kids were growing up - too many times I would realize that I was expected to bring cookies to a school progam in a couple hours and had nothing prepared. There were never any left to bring home so I can tell you from experience that it is easily doubled and that tripled, I used exactly one 12 oz package of chow mein noodles! There are other chow mein noodle cookies on here but all that I found called for chips, this one does not.
Bring sugar and syrup to a full boil in a heavy pan. Remove from heat at once. (Over cooking will make a hard cookie.)
Add peanut butter and noodles. Mix thoroughly.
Drop into rounded mounds onto waxed paper.
Let set for at least 15 minutes.
NOTE: I usually add more noodles for a crunchier cookie. I add a half cup or so at a time, stirring them in to make sure they will still stick together before deciding whether to add more or to stop.
PREP time includes cooling.