No Bake Chocolate Pôts De Crème
Chilicat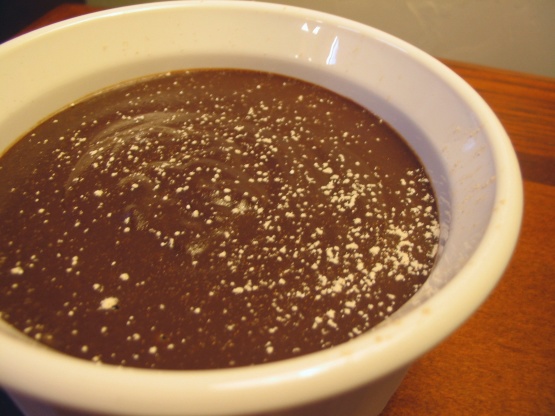 These are not for the faint of heart but for the true chocophile. They are very rich! Serve with raspberry sauce and whipping cream, for an easy, elegant dessert. For the best flavor and texture, use high-quality chocolate. If substituting chocolate chips for the chocolate, be sure to use a high-quality brand, such as Ghirardelli bittersweet chips. Time does not include chilling before serving.

Wow, these are RICH! It's almost like eating ganache straight from the bowl, only not as sweet. I used Valhrona 55% chocolate, and the taste is sublime. One recipe only filled four ramekins (bigger servings!) but that worked fine for me. This really is a chocoholic's dream!
Place the chocolate in a large bowl and set aside.
Whisk the egg yolks, sugar, and salt together in a bowl until smooth.
Bring the cream and milk to a simmer in a medium saucepan over medium heat, stirring occasionally. Remove the pan from the heat and slowly whisk about 1 cup of the cream mixture into the yolks. Slowly whisk the yolks back into the cream mixture.
Return the pan to low heat and cook, whisking constantly, until the mixture thickens slightly, just enough to coat the back of a spoon with a thin film, and registers 175 to 180 degrees on an instant-read thermometer, 7 to 9 minutes.
Strain the mixture through a fine-mesh strainer into the bowl with the chocolate and let stand for 2 minutes. Slowly whisk the mixture until thoroughly combined. Stir in the vanilla and then divide evenly among six 6-ounce ramekins.
Cover with plastic wrap and refrigerate until firm, at least 4 hours.