No-Bake Cherry Cheesecake for Valentine's Day
Rita1652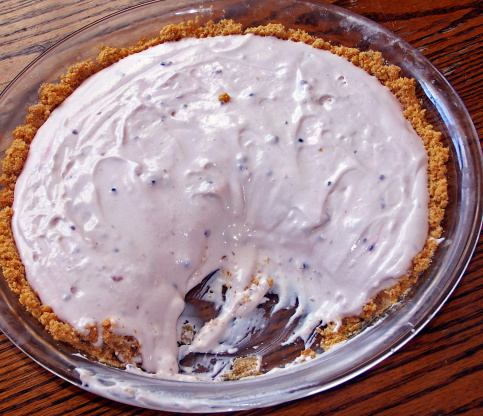 Sent to me via email, this has to be one of the easiest, yet one of the most romantic cakes I've seen in a long time. I wish I could post the picture that came with this, but since I didn't make it, or take it, one of the wonderful Zaar photogs is going to have to step up to the plate (literally!). The person who made the cheesecake said she used a silicone heart-shaped mold but the cake did not set as solidly as a baked cake, so she threw it in the freezer for about half an hour before unmolding. Cooking time is chill time.

Oh I enjoyed this smooth creamy pie! Yes, I called it a pie but some may call it a pudding while the recipe calls it a cake! This come out very creamy and very soft! I printed this recipe (ingredients and directions) without the description above. I did want to place in the freezer But my DH couldn`t wait so it was served and enjoyed. Not sliceable though. A very easy recipe to make. As for the pictures I hope it makes someone want to make this and do freeze it for this is worth making. Please if you don`t plan on freezing don`t put in a silicone mold unless you plan on eating it right out of the mold.
Blend the crumbs and sugar together in a bowl, then add the melted butter.
Stir until mixed then press into a heart-shaped silicone mold (or a 9" springform pan or pie plate).
Bake at 375 degrees F for 8-10 minutes, remove from oven and set aside to cool.
With an electric mixer, the beat cream cheese until fluffy.
Add the sweetened condensed milk and continue beating until well blended.
In a separate bowl, beat the whipping cream until stiff.
Fold the whipped cream into cream cheese mixture until well blended.
Add cherry filling to the filling mixture. This will give your cheesecake that nice, Valentine's Day pink tint.
Spread the mixture over the cooled crust and refrigerate for at least 3 hours.
Garnish with your choice of chocolate shavings, cherries, whipped cream, or berries.