No-Bake Cheesecake - Sugar-Free and Wheat-Free
Bobbiann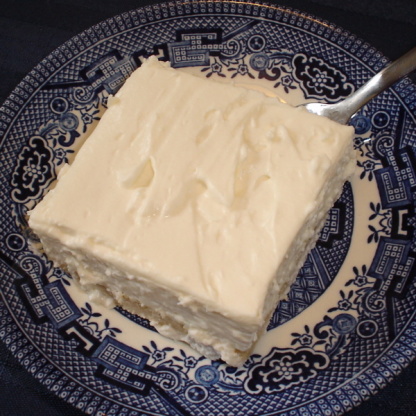 One of my dad's favourites. Sweetened with stevia and honey or maple syrup. Can be topped with fruit or sauce of choice.

This is just what I was looking for! I used 1/2 honey and 1/2 maple syrup. I also skipped the crust and crushed up some Jennie's Coconut Macroons on top. I took a bit of the cheesecake mixture and put some cocoa in it. It was very good but needed a bit more sweetener. I'm going to use this cheesecake recipe as a base for many other combinations. Thank you so much!
Base:.
Mix ingredients together and press into a 9x9 pan.
Bake at 350 degrees for 10 minutes. Turn oven off and leave in for 1/2 hour. Cool.
Filling:.
With mixer, beat together cream cheese and honey or maple syrup.
Add cream and vanilla. Combine well, spread over cooled base and refrigerate.