This is so easy and good!! Its great for the summer
Directions
Beat cream cheese till smooth.
Add sugar, blend in sour cream and vanilla.
Fold in cool whip.
Blend well.
Spoon into pie crust.
Chill at least 4 hours.
top with pie filling or strawberries.
Most Helpful
OMG...Best no-bake cheesecake ever! Sour cream makes all the difference! I spread about 1/3 of this onto the crust of Fresh Strawberry Pie (#16881) and topped it with the strawberry gelatin mixture to make a Strawberry Cheesecake Pie. Heavenly!

This is perhaps one of the BEST No Bake Cheesecakes I have ever had!!! However, instead of vanilla, I added fresh squeezed lemon juice...topped it off with Blackberry Pie filling that I had added fresh blackberries to....DELISH!!! THANKS for sharing!!!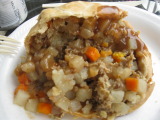 Very simple to make and not too sweet.