This is the best no bake cheesecake I've ever had, and it was super easy!!!
Directions
Put graham crackers in a large reseable plastic bag, and crush them with a rolling pin until very fine crumbs form.
Pour crumbs into a medium bowl; stir in sugar add butter, and stir until well combined.
Press crumb mixture into a 9-inch springform pan; spreading it 1 1/2 to 2 inches up the side; press flat. Chill crust in freezer at least 10 minutes.
Meanwhile, make the filling. Using an electric mixer set at medium high speed, beat cream cheese in large bowl until smooth. Beat in the condensed milk a little at a time. Beat in lemon juice and vanilla.
Pour filling into crust, cover and refrigerate 2 1/2 to 3 hours.
Remove side of pan.
Most Helpful
Beautiful and utterly divine! I prefer no bake cheesecakes over baked ones, so I love trying out new recipes. Great crisp base and that cheesecake is just so delicious! Velvety smooth, and love the fact it uses condensed milk instead of sugar! Think this may be my new go-to cheesecake recipe!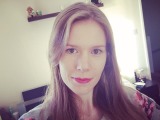 Good solid recipe. Turned out well.

Great recipe! Incredibly simple and fast to make. The only thing I changed was the amount of lemon juice. Instead of using 1/4 cup lemon juice I used about 1 1/2 tablespoon. (I also used a store bought graham cracker crust instead of making my own).