Nitko's Chicken Schnitzel With Sage, Rosemary and Garlic
nitko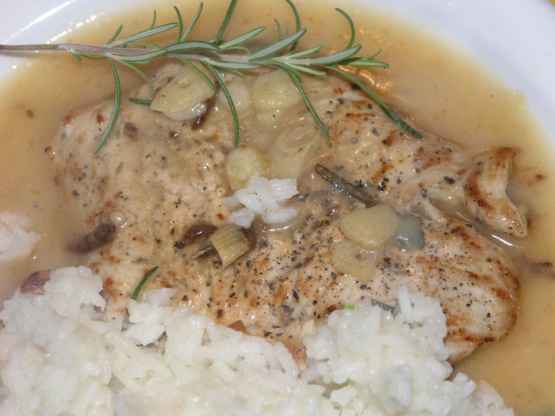 This is meal I made yesterday having nothing but chicken fillets at home (all other is always somewhere). I did not have much time so I have marinated schnitzels for just 30 minutes; it should be more, but anyway, there were nice. Serve with "rizi-bizi" (see on Zaar). This is how it goes:
You should get three nice schnitzels out of 150 g chicken breasts. Beat them into thin schnitzels. Season them with salt and pepper.
Put them into a plate, pour over olive oil and lemon juice. Cut garlic into 5 pieces, cut rosemary leaves and sage leave (do it (sage and rosemary) with hand not knife). Mix all ingredients and leave to marinate up to 3 hours.
Heat the pan (best Teflon one). Remove schnitzels from marinade and save the marinade.
Fry schnitzels until gold (you can pour some of the olive oil from marinade on schnitzels while frying), remove them and pour what is left from marinade into the pan (including garlic, rosemary and sage).
Fry garlic just 1 minute, add flour, stir and add water.
Deglaze meat juices until water evaporates to half and pour over schnitzels and rizi-bizi or rice; or whatever you are serving with.