Katzen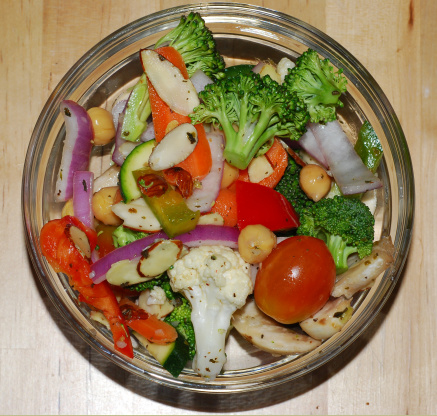 From the 12 Best Foods Cookbook by Dana Jacobi, with a few tweaks from me. Cook time does not include marinating time.

Top Review by Katzen
Beautiful, healthy, easy salad! I made this for the week's lunches today, keeping the dressing separate - I'll toss two portions together each morning - simple! I added both broccoli and cauliflower, doubling the other veggies. The dressing is so delicious! Thanks for posting, Smelly! Made for my adopted chef, in Veggie Swap 20.
In a 10-cup plastic container, combine vinegar through salt. Shake gently to combine.
Add the oil and black pepper. Cover tightly and shake vigorously to blend.
Ideally you'll want to set this aside for an hour to allow the flavors to meld.
Combine salad ingredients to the container. Cover and shake vigorously to coat. Serve immediately or marinate for 2-24 hours in the refrigerator.
Garnish with almonds to serve.