CoffeeB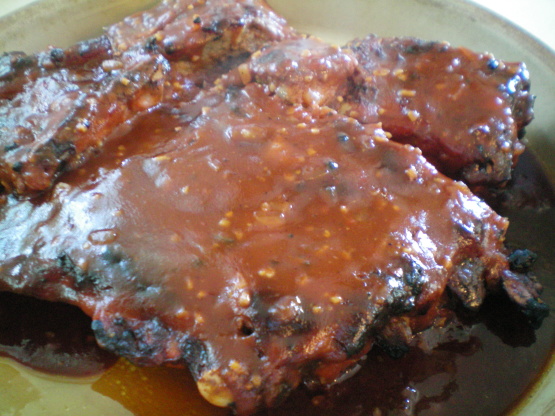 These are the best ribs I think I have ever made. They are fall off the bone tender and juicy with a tangy/spicy sauce that we loved. I started with a recipe from my Weber's Big Book of Grilling, tweaked it to our liking and experimented on the grill and finally, after 4-5 tries, came up with the perfect Baby Back Rib recipe, IMHO. Thus the name, Nimrod's Baby Back Ribs. For a hickory flavor, soak 2 handfulls of Hickory Chips in water for at least 30 minutes and add to the hot coals the last 30 minutes of grilling. I was hoping to get the cooking time exact, but it varied each time I made these. Hope you enjoy. Be sure to have lots of napkins on hand cause you will need them. You also will need a grill that you can cook using indirect heat.
Made these according to directions. Over indirect heat between 325 - 350 for 1 hr and 45 min on gas grill. Ribs were dry, crisp, burnt and overcooked. From now on I will use the oven.
To make the Sauce: In a medium saucepan over medium-high, warm the vegetable oil. Add the onion and cook, stirring occasionally, until translucent, 4-5 minutes.
Add the garlic and cook for 1 minute more.
Add the remaining sauce ingredients, including Tabasco sauce to taste, and bring to a boil.
Reduce heat and simmer for about 15 minutes. (It might taste a little vinegarie at first but it won't by the time you use it).
Set aside.
Pour some of the sauce in a small bowl to use for basting the ribs.
Allow the ribs to stand at room temperature for 20-30 minutes before grilling.
Season with salt and pepper.
Grill the ribs, rib side down, over Indirect Medium Heat (keep grill at about 325-350 degrees) until the meat is very tender and has pulled back from the ends of the bones, 1 1/2 to 2 hours.
Turn after the first 30 minutes and again in 30 minutes, then do not turn again.
During the last 30 minutes of grilling add the soaked hickory chips to the hot coals (if using).
During the last 30 minutes of grilling time, baste generously with the small bowl of sauce every 5-10 minutes, depending on how much sauce you want on the ribs.
Serve warm with the remaining sauce on the side.