Nimbu Ka Chaval (Saffron Rice With Lime)
Rita1652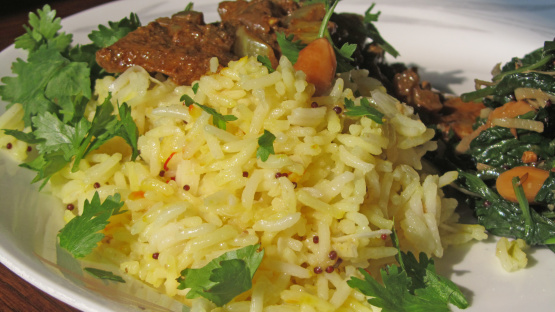 Adapted from Time-Life Foods of the World. Black mustard seeds are the same thing as brown mustard seeds. If you can't find them, you can use yellow ones, but the flavor will not be as strong. I listed the boiling water and the water used to cook the rice separately, for clarity. NOTE: you will need a casserole dish that is safe to use both in the oven and on the stovetop.
A nice and tasty exotic rice. I made this with brown rice and just cooked it about 5-10 minutes longer in the water (until nearly tender). Other than that I made it as written. I think a tad less lime juice would be ideal. And I mean just a tad.
Preheat oven to 350°F.
Place saffron in a small bowl and pour 1/4 cup boiling water over it.
Let stand at least 10 minutes.
Meanwhile, bring 4 cups of water to a boil in a heavy saucepan.
Add rice, stirring constantly to keep water at a boil.
Add 1 teaspoon salt.
Cook over moderate heat, uncovered, for 10 minutes.
Drain rice and set aside.
Heat butter or ghee in a heavy 3-4 quart casserole with a tight-fitting lid.
Add cashews, ginger, mustard seeds and clove.
Cook, stirring constantly, until seeds begin to burst, about 1-2 minutes.
Add remaining salt, chili pepper, rice, coriander, lime juice, coconut and remaining boiling water, stirring well.
Sprinkle saffron and the water it soaked in over the top.
Bring to a boil over high heat, stirring occasionally.
Cover pan with aluminum foil.
Place lid on top.
Bake for 25 minutes, or until rice has absorbed all liquid.
Fluff with a fork before serving.