Nilaga (Filipino Chicken Stew)
rpgaymer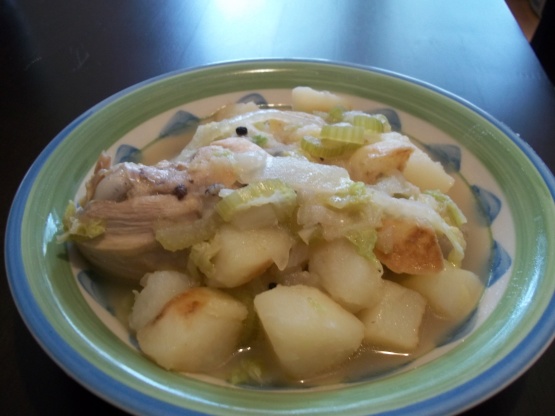 This stew is from the more European-influenced spectrum of Filipino cuisine. It is quick and easy to make, and it's a great one-dish meal that tastes almost like a rustic chicken soup.

My Mom that raised me is from the Philippines and this is a basic comfort food there. You can add more Ginger if you like and at home I have added other veggies from time to time like mushroom or a touch of bell pepper or some snap beans. It is not a set in stone recipe and it usually is served with rice and patise (fish sauce) for those that can eat it I make a blend of soy sauce and lime juice to go with it that is 2 parts soy to one part lime for those that wish to try it. but have a seafood allergy such as I developed :( but still excellent recipe thank you for sharing :)
Place the chicken in a heavy pan with the water, ginger, peppercorns, soy sauce, carrot, onion, and celery. Boil uncovered over high heat for 25 minutes.
While that's cooking, heat the oil over high heat in a large frying pan. Add the potatoes, and saute them for 8-10 minutes, or until they are lightly browned on some sides. Set aside.
Add the potatoes and cabbage to the stew. Lower the heat , and simmer for 10 minutes. Mix well, and serve hot and steaming.