Nikuman / Butaman / Pork Bun
Rummz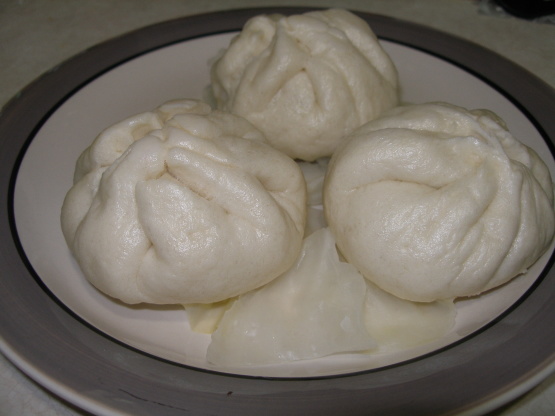 This is a steamed bun with a pork filling. I first tasted this in Japan, it warms you up on a cool day. And served with hot mustard and soy sauce it is perfection. I found this recipe by searching on the internet.

Top Review by mjl927
I used to eat these almost every day for lunch when I lived in Japan. I was very excited when I found this recipe. I've made them twice so far and they are glorious. I have had a little trouble making the filling dry enough to not basically melt through the bun before I get it in the steamer. Also, I use less ginger and cabbage than what's recommended here. I really love them with spicy mustard.
for the bun, mix all the powdered
ingredients in a bowl and make a well in the centre
pour the wet ingredients into the well and mix in thoroughly
when they're combined, add the shortening and knead until smooth
rest at room temperature for 30 mins
mix the filling and divide into 10 balls
divide the dough into 10 balls and roll them out round.
wrap them around the fillings, pinch and twist at the top
let rest for 15 mins
steam for 15 mins: add a splash of white vinegar to the water to prevent discoloration
(makes about 10 nikuman).