Nigella Lawson Pantry-Shelf Chocolate-Orange Cake
flower7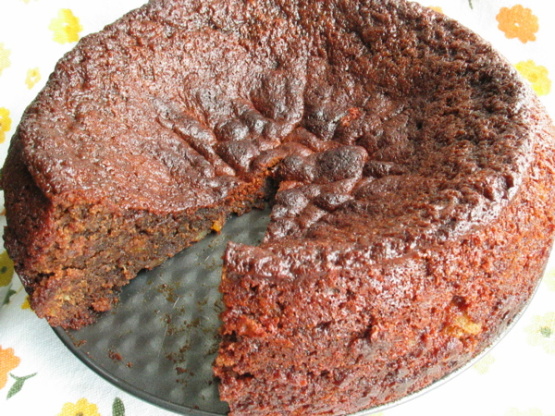 If you'll read my personal page you'll know exactly where this recipe is coming from. This is a simple, unadorned cake with a dense texture (almost brownie-like). The orange twist is a nice surprise. One day I found myself spreading soft cream cheese over a slice and it was quite delicious! Enjoy with coffee or whatever is your poison.

This is a very moist and sticky cake. It also tastes fabulous. Unfortunately, mine looked like an asteroid hit it - it rose up really high on the edges and sunk in the center. I don't know if it was because I used homemade self-rising flour or if there was another issue. I did use the microwave to melt the butter & chocolate but I don't think that would explain the problem. Even if it doesn't look very good, the taste makes up for it. I will be trying this one again to see if I can get it to look better. Thanks for the recipe :)
Oven@ 350.
Melt the butter in a saucepan and then add the chocolate and stir until melted.
Take off of the heat.
Add the marmalade, sugar, and the eggs and combine.
Gradually beat in the flour.
Pour into a greased 8-inch springform pan.
Bake for about 50 minutes or until a toothpick comes out clean when inserted.
Cool in pan for 10 minutes before turning out.