Nigella Lawson Alcoholic Hot Chocolate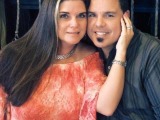 This yummy treat comes from Nigella's television show called "Nigella Feasts" and the episode is "Chocolate Heaven".
Directions
Put the milk into a saucepan and break the chocolate into pieces and add to the milk along with a cinnamon stick, honey, and sugar and heat gently until the chocolate is melted.
Add the vanilla and mix with a small hand whisk and still whisking, add a spoonful of the rum first and taste to see if you want more.
Add more sugar if you want this sweeter, too.
Take out the cinnamon stick and pour into 2 cappuccino or caffe latte cups.
Most Helpful
This is lovely! I used skim milk and 65% cocoa dark chocolate. Made as posted and enjoyed very much. Thanks for sharing!

This was absolutely wonderful! I used Hershey's Special Dark Chocolate. I think the honey, cinnamon and brown sugar added the extra oomph to this drink.