lazyme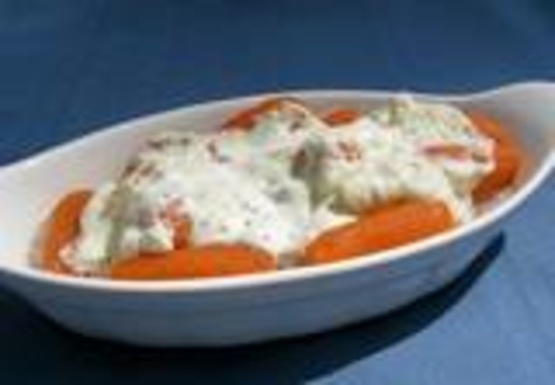 I got this from the Best of Bridge. I made it for Christmas and thanksgiving dinner in Korea and people raved about it. One male friend asked if I was making those awesome carrots when I invited him to Christmas dinner.

I love horseradish and this dish was awesome! The only change I made was popping it under a low-broil for 10 minutes (instead of the baking) and the idea of the breadcrumb topping was off-putting so I also omitted it. I will definately be making this again. Thanks!
Boil or steam carrots, reserving carrot water.
I always steam them to preserve the carrot flavor.
Place cooked carrots in a shallow casserole.
Combine the rest of the ingredients, pour over carrots and mix.
I use alot of horseradish because we like it.
You can use less if you want.
Note: The original recipe calls for bread crumbs mixed with the butter on top.
I didn't care for it and I always omit this.
If you want to try it, melt the butter, mix with breadcrumbs and sprinkle on top.
Bake at 375 F.
for 30 minutes or until horseradish sauce is bubbly.