Nif's Spanish Omelette (Omelet) for 2
Debbwl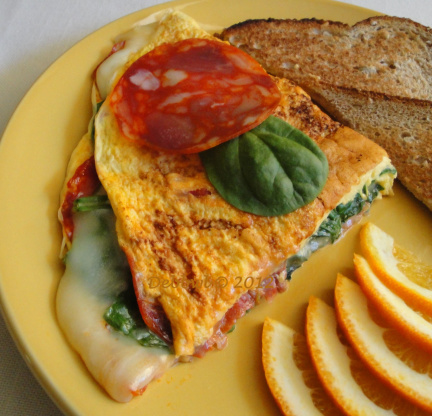 I had some leftover chorizo sausage and thought I would make a Spanish influenced breakfast for us. It's quite basic so you can add whatever else you want to it, but it is tasty as is. Enjoy!

Top Review by Debbwl
A tasty omelette that is packed full of flavor but not spice hot. We are used to the Mexican chorizo here in CA so found the hard Spanish chorizo a nice new taste treat. I made as written cutting the recipe in half with was plenty big enough to feed the two of us. Highly recommended you try this taste treat, thanks for the post Nif.
Heat oil in a large nonstick frying pan over medium heat. Add chorizo and saute for about 2 minutes, just until a little browned. Remove sausage and place on a paper towel.
Meanwhile, whisk together eggs, milk and baking powder. When sausage is removed from pan, add egg mixture. Sprinkle with sausage and spinach. Top with grated cheese.
Cover pan with lid and turn heat down to medium-low. Check after about 3 minutes and see if omelette has set - the middle should not jiggle. Add salt and pepper to taste.