Nif's Spaghetti With Mushrooms and Shrimp for Two
Annacia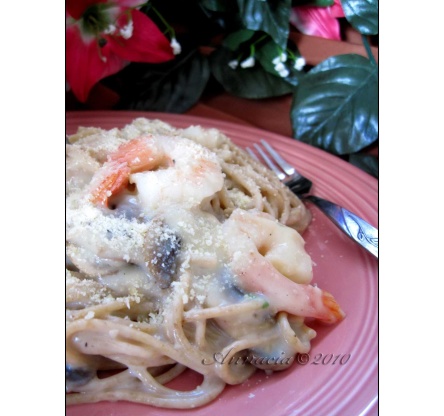 On one of those rare nights without the kids, it's nice to make something delicious together that you can catch up over. That's where this came from. Enjoy!

This was wonderful!! So easy and tasty - both of us two loved it. I used almond milk for the milk and two tablespoons gluten free flour (mix of sweet rice flour and cornstarch) and it worked extremely well. This definitely is a keeper. Thanks for sharing!
Made for Relax, chat, and sip some iced tea / Diabetes Forum
Cook spaghetti as directed. Try to time it so you will be done the sauce and can add the spaghetti while it's still hot. NEVER rinse your pasta.
In the meantime, heat butter over medium heat and saute mushrooms and garlic for 5 minutes. Sprinkle mushrooms with flour and stir. Add milk and stir until there are no lumps. Lightly simmer for 5-10 minutes.
Season to taste with seasoning salt and pepper. Add wine and shrimp until shrimp is warm.
Add spaghetti, stir to coat, top with parmesan cheese and enjoy with your loved one! ;).