Nif's Quick and Tasty Parmesan Chicken
gailanng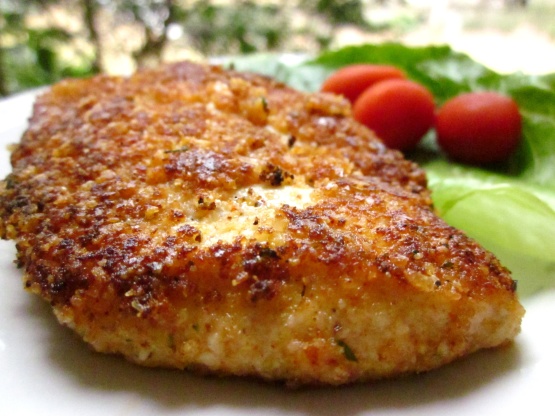 A quick dish to put together on a busy night. Normally I would dredge the chicken in flour first, but it worked out just fine. Enjoy!
Preheat the oven to 350 degrees Fahrenheit.
Pound the chicken breasts to an even thickness with the side of a mallet.
Mix milk and garlic powder together in a shallow dish.
Mix breadcrumbs, Parmesan cheese and paprika in a separate shallow dish; add salt and pepper to taste.
Heat frying pan on medium heat and add oil.
Coat the chicken in milk and press into the breadcrumb mixture.
Brown both sides of the chicken in the hot pan, about 4 to 5 minutes on each side.
Place chicken on a baking sheet.
Bake until cooked through, about 20 minutes.