Nif_H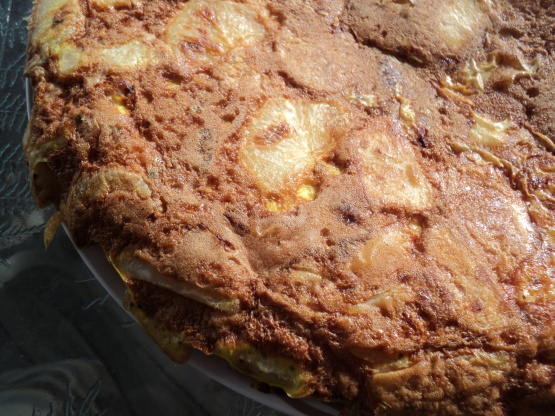 I needed a side dish with our dinner and this is what the end result was. I used the egg substitute but gave options for real eggs. Also, you can add onions, peppers or any other vegetable that you want. Just sauté them with the potatoes. You can use olive oil to sauté, but I like to use some type of veggie oil when doing that. Enjoy!
In a large nonstick frying pan over medium-high heat, add potatoes to hot oil. Stirring occasionally, sauté until lightly browned, approximately 20 minutes. Sprinkle with salt and pepper to taste. Remove pan from heat to cool for a few minutes.
Whisk eggs in a bowl (or pour egg substitute into bowl). Add parsley, garlic powder and any other seasonings that you like. Stir in cheese.
Pour egg mixture over potatoes and press everything with a spatula to evenly distribute in pan.
Cover pan with lid and cook over low heat for about 20 minutes, or until the top is no longer runny. Try not to overcook or the frittata with dry out.
Place plate on top of frittata and flip it onto the plate.