Nif's Porkapalooza (Pork Loin Wrapped in Bacon)
Nif_H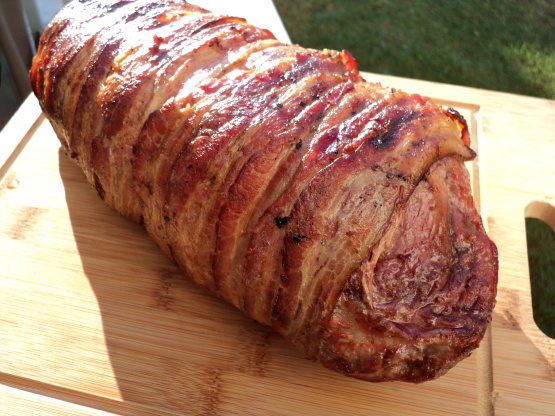 This is what I got when I realized that I had a pork loin and bacon in the fridge at the same time! Only 3 ingredients and a little prep and you'll have a very tasty, juicy pork. I used Nif's Basic Dry BBQ Rub for the dry rub. I also let the loin sit overnight in the fridge after it was prepped. One little tip - count the number of toothpicks that you use so you know how many you need to pull back out! I cooked this in the BBQ but I don't see why you can't cook it on a rack in the oven. Enjoy!
Wow...we really loved this pork tenderloin! This was so easy to make and so full of flavor. I used recipe #347977 and it worked so well with this recipe. I assembled it and let it set in the fridge for about 24 hours. I baked it in the oven on a roasting rack at 375 degrees for about an hour. Somehow, I managed to miss Step 4 of the recipe and didn't brown the tenderloin in a pan (oops), but the bacon browned up nicely during the baking stage anyway. Thank you for sharing this delicious recipe...it is definitely a keeper!
**Made for Football Pool 2011**
4

lbs pork loin

2 -4

tablespoons dry rub seasonings, your favourite

12

slices bacon
Rub the pork loin with the dry rub. Be sure to cover the whole thing.
Lay bacon slices out on a cutting board, overlapping about 1/4". Roll the pork loin over the bacon, making sure to roll the bacon up and around it.
Meet the bacon slice ends together and secure each one with a toothpick. You may have to pull the bacon slightly to stretch it far enough for the ends to meet.
Heat a nonstick pan over medium-high heat. Sear the outside of the loin completely until the bacon is nicely browned.
Meanwhile, preheat barbecue to 350°F, leaving the middle burners off. Place the pork loin over indirect heat on the barbecue. Rotate the roast every 10 minutes or so until pork is cooked through and internal temperature reaches 170°F, about 45-60 minutes.
Let rest for 10 minutes, remove the toothpicks and slice.