Katzen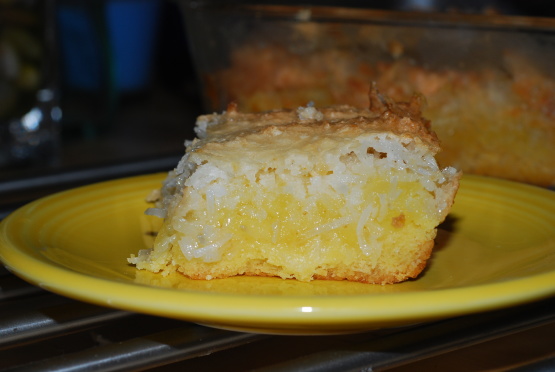 Enjoy a taste of the tropics with this delicious square featuring pineapple and coconut. I am not a dessert person, but I like this dessert! Enjoy!

i love pineapple and i love coconut so anything that combines the two is a sure thing for me to try. i am glad i chose this one. the family enjoyed it thoroughly as well, no texture issues from the coconut, too bad, that means momma has to share. thanks for sharing with us though. :) zwt 7
Cream together butter and sugar in a large bowl. Add egg yolks and mix well.
Sift together flour, baking powder and salt. Add to the creamed mixture, mixing well.
Press into an 8" x 8" cake pan (lightly greased or sprayed with nonstick spray). Cover with pineapple.
Beat the egg whites until stiff; add the sugar and coconut. Spread over the pineapple.
Bake at 350F for 30 minutes. Cool and cut into squares.