Nif's Perfect Poached Egg
loof751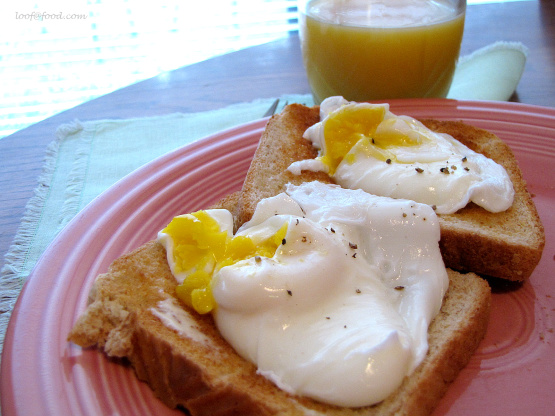 Oh, the poached egg! There is nothing better than having a poached egg on toast or over a bed of spinach... mmmmm...... Enjoy!
Super easy! I always used the vinegar and boil the heck outta them method but this is nice because I can walk away from the stove for a second! Thanks Nif! Made for ZWT 8
2

eggs (organic or free-run is best because the colour of the yolk is beautiful)
1⁄4 teaspoon sea salt
In a frying pan, heat enough water to cover the egg(s) to a low boil. Add salt.
Crack an egg into a small bowl. Quickly dip bowl into the water. Slide the raw egg into the water. Immediately slide the other egg into the water in the same fashion.
TURN OFF HEAT but leave on burner! Cover pan with lid - DO NOT UNCOVER and let sit for 4 to 6 minutes. You can uncover to check them, starting at 4 minutes. You'll know they're done if the white is not really jiggly.
Using a slotted spoon, gently place eggs on a tea towel. If you use scented detergents or fabric softeners on your towels, do not use them. Instead, slide egg(s) onto good quality paper towels, so the towel doesn't fall apart. Let sit for a few seconds to drain the water.
Place eggs on to toast, a slice of tomato, steamed spinach and/or a piece of low fat cheese.