Nif's Peanut Butter Banana Muffins
NELady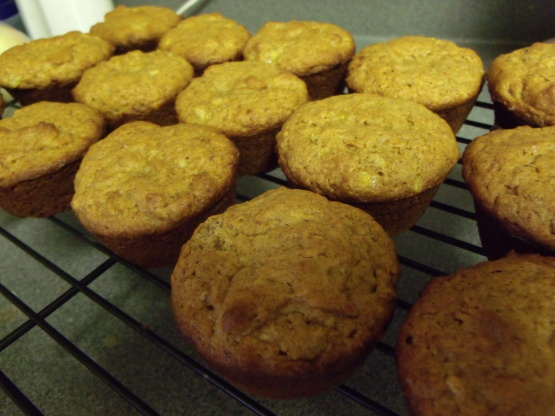 I made a batch of these tonight for my kids' school lunches. They are easy to put together and use ingredients that most of us have in our pantries. Enjoy!

Top Review by NELady
Very, very tasty. I made a couple of changes (to accomodate my limited pantry this week). I used 100% whole wheat flour, used agave nectar instead of honey (that was a mistake -- grabbed the wrong squeeze bottle, but it worked just fine) & added a tablespoon of flax meal and an extra teaspoon of vanilla. They were light anf fluffy and DELICIOUS. Yielded 15 muffins. Baked for exactly 20 minutes. I will make these again. Thanks for posting!
Spray muffin tin with nonstick spray and preheat oven to 375°F.
Combine eggs, honey, oil, water, bananas, vanilla and peanut butter in a large bowl and mix well with a hand mixer.
Combine flour, baking powder, baking soda and salt in a medium bowl. Fold dry ingredients into wet ingredients and stir 20 times.
Spoon batter evenly into muffin tin. Bake 20-25 minutes, until toothpick inserted comes out dry.