Nif's Nothing Fancy Tuna Casserole
Boomette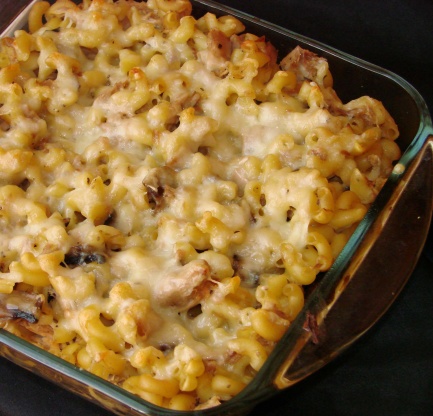 Another simple yet satisfying home meal that you can make in no time. A huge hit with kids, big and small. Also very easy on the bank account! If you don't have 2 cans of tuna, just use one. Quarter your canned whole mushrooms if that's what you have. Use a shaped pasta like macaroni, rotini, penne, something to hold the sauce. Add any veggies, seasonings, etc. that you think your family might like. Also freezes very well. Enjoy!
Boil pasta in salted water, as directed. While pasta is cooking, spray a 2 quart casserole with nonstick spray; open cans of tuna, soup and mushrooms.
Drain pasta, return to pot and add all other ingredients. Mix well and pour into casserole dish. Sprinkle cheddar cheese on top.
Bake at 350F for about 30 minutes. You just need the casserole to heat through. Remove from oven when cheese has completely melted and let cool for 5 minutes before serving.