diner524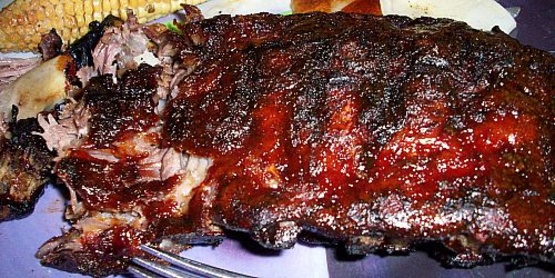 This recipe is for my neighbour. She used to spend so much time making the perfect ribs. Not too dry, not burning on the BBQ, cooked just right. I mentioned my rib recipe to her, she tried it and has never gone back! The nutritional value listed here is not right for this recipe because the cooking method removes so much fat. I suggested the BBQ sauce that I like, but I find sauces vary so much, I thought that it was best to pick your favourite. I also included the longest option for the cooking time. Here you go Judy - Enjoy!

This is a wonderful way to cook ribs! The boiling gets rid of a lot of fat and leaves you with tender tasty ribs. I have tried several ( more labor intensive ) ways of doing ribs and I always like them but this is so easy to control making it a more consistent winner. The only thing I did different than the recipe called for was to raise the oven temp to 425 degrees for the last 20 minutes or so to set the barbecue sauce. If the weather was suitable I might do the last step on the grill.
Place ribs in a large stock pot. Fill pot with cold water until at least 2 inches above ribs. Add bay leaves, peppercorns and sea salt; bring to a boil. Once boiling, skim scum off the top of the water. Simmer ribs, while skimming occasionally, for 1 to 2 hours.
Set oven to 250°F.
Remove ribs from water and place in large baking dish. Pour your favourite BBQ sauce over ribs and cover tightlly with foil. Cook for about 4 hours, turning the ribs over every hour or so.
Remove foil and let cool for 10 minutes, until you can handle them. Cut into 2 to 4 ribs per section and place on a platter. Enjoy your tender, fall off the bone ribs!