Nif's Linguine With Scallops
Annacia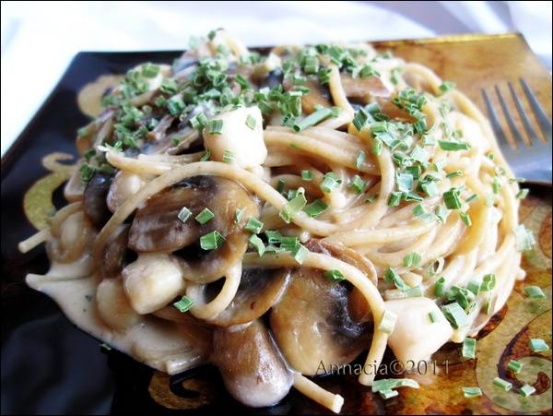 I wanted to whip up some pasta for dinner tonight and this is what I came up with! I kept it low calorie and low fat but feel free to add some white wine or saute the veggies in butter or oil. If I wasn't watching what I am eating, I would probably do both! :) I used cream cheese to thicken up the sauce a bit and I really like the taste. FYI - it counts as 8 WW points. Enjoy!

Yummy. I used multi grain spaghetti (out of fettuccine) and dried chives on top. The flavors here are all some of my fav's so this was bound to be a hit. It's easy, quick and feels like something you'd get in a high priced restaurant. Will certainly make again.
In a pot, bring water to a boil. Add chicken boullion and linguine and cook until al dente. Reserve water.
Meanwhile, spritz a frying pan with olive oil and set over medium heat. Add mushrooms and shallots and saute until mushrooms are softened, about 5 minutes. Add scallops and cream cheese and 1/4 cup of pasta water. The scallops only need to cook for 2 minutes or they become rubbery.
When pasta is finished cooking, add directly to the frying pan without rinsing. Stir until combined. Add more pasta water if you want more sauce.
Pour pasta onto a plate and top with parsley.