Nif's Light Grilled Marinated Chicken
Nif_H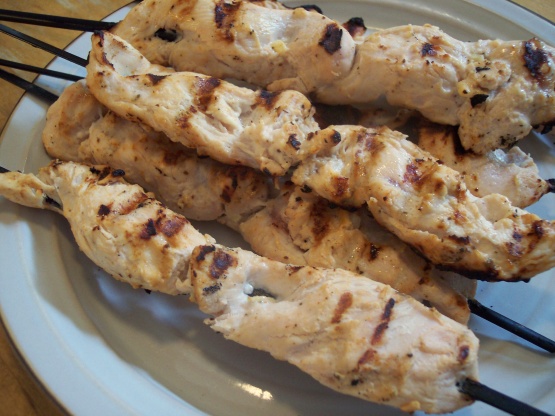 A nice light, yet flavourful dish that is easy and the breasts can be served whole or on skewers. If you are using wooden skewers, be sure to soak them in cool water for 30 minutes. I also place a strip of tinfoil under the exposed skewers when on the grill. I recently purchased metal skewers and I really like them. I did not include marinating time. Enjoy!

I finally got around to making this recipe for dinner and I am so bummed that I waited this long! It was really good. I didn't have any fresh ginger so I subbed about 1 1/2 tsp ground ginger and I also used Greek yogurt instead of regular yogurt. I marinated the chicken for 5 hours, threaded it onto beer soaked skewers and the hubs grilled it for about 10 minutes. PERFECT!! The chicken was moist and still retained some of the creaminess from the marinade. I also like that I had two skewers of chicken and it seemed like I had eaten a lot more than I actually did (about 3/4 of a chicken breast). My picky two year-old actually ate an entire "safety" (point cut off) skewer of chicken and that never happens. Thank you for posting this! My husband already declared that it will now be in regular rotation. Also on a side note, I followed the quantities of all ingredients and I did not have any problems with saltiness. It was excellent as written.
Mix all ingredients, except for the chicken in a flat dish.
Add chicken and stir to coat. Marinate for at least 4 hours.
Spray grill with nonstick cooking spray and heat to medium-high.
Meanwhile, weave chicken on skewers. Grill chicken for about 5 minutes per side, until cooked.