Nif's Jumbo Banana Carrot Muffins
Boomette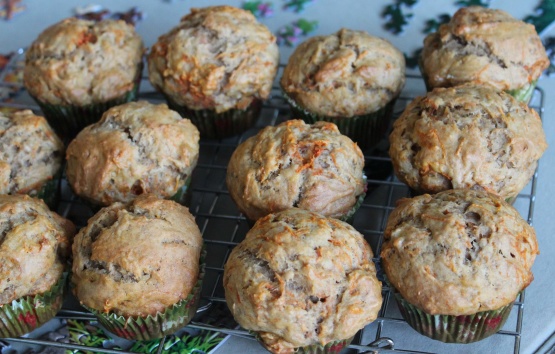 My boys go back to school tomorrow and I wanted to be prepared by having some food that they can grab on their way out. This is what I ended up with and they are moist and really good! My boys are teens so I made this recipe for the great big muffins, but adjust the time and amounts and you can make smaller ones. Also, you can exclude the raisins and replace them with nuts if you prefer. Enjoy!
I made half the recipe and made them in regular muffins. I got 12. I used only 1/2 cup of sugar for half the recipe. I grated the carrots finely. I omitted the raisins. I baked them 27 minutes. I ate one to taste them ;) The smell was amazing. They are moist and taste so good. My son is happy that he will have these muffins as snack at school. Thanks Nif :) Made for Market tag game
Preheat oven to 350 degrees and spray a non-stick muffin tin OR I highly recommend using the silicone version of the pan for no spraying or sticking.
In a large bowl (I used my Cuisinart stand mixer with the paddle attachment), mix the oil, sugar and eggs completely. Add the mashed bananas and vanilla and mix again until incorporated.
In a medium bowl, whisk together the flour, cinnamon, baking soda and salt. Add to the creamed mixture in 2 batches, stirring after each addition.
Stir in carrots and raisins.
Scoop 1/2 cup of batter into each muffin mold. Bake for 25 - 30 minutes or until a toothpick inserted comes out clean.
Remove from oven and place on cooling rack. Cool for at least 10 minutes and then remove from pan.