Nif's Hearty Healthy Beef Barley Soup - 5 Ww Pts.
Nif_H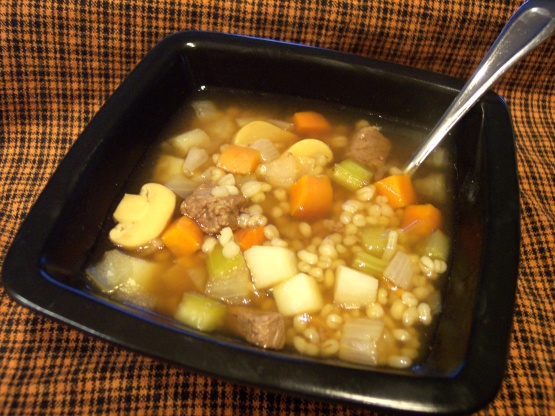 This is an awesome soup that I make and freeze in individual servings to take to work for lunch. You can also use pot barley, but it will have to cook longer. Enjoy!

Superb soup. I used homemade defatted beef stock. Loved all the chunky vegetables. Quite filling and left me feeling very satisfied. Thanks for posting this healthy soup recipe.
Spray large pot with extra virgin olive oil spray. Over med-high heat, lightly brown beef and then add veggies, except for mushrooms. Saute for a 3-5 minutes.
Add broth, bay leaf, barley, mushrooms (with juice). Bring to boil.
Lower heat and simmer for 30-60 minutes or until barley and veggies are tender. Remove bay leaves. Salt and pepper to taste.