Nif's Grilled Tomatoes With Pesto and Cheese
MIVeggie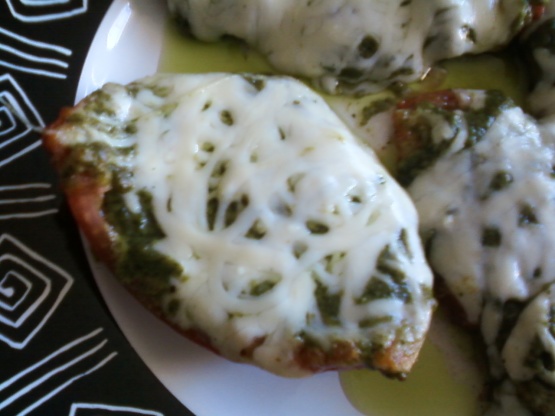 A very yummy side to make while you are grilling your chicken or steaks. Enjoy!

This was wonderful! I made it tonight with leftovers of this pesto recipe: http://www.food.com/recipe/fresh-basil-pesto-272133. I skipped the green onions and just went with the pesto, tomatoes, and cheese. I also brushed the outsides of the tomatoes with olive oil and sprinkled on some garlic salt and fresh ground black pepper. They were so pretty that I just had to take pictures. Easy to make, excellent flavor - we'll definitely make these again. Thanks for a great recipe, Nif!
Scoop out seeds and most of the flesh from the tomato halves.
Using only half the pesto, divide pesto in each tomato half and top evenly with green onion. Mix remaining pesto with mozzarella cheese. Top each tomato half with cheese mixture.
Place tomato halves on tinfoil placed on a medium hot grill. They are done with the cheese has melted and the tomatoes have heated through.
Top with parley or chives.