Nif's Grilled Hawaiian Chicken Skewers
Swirling F.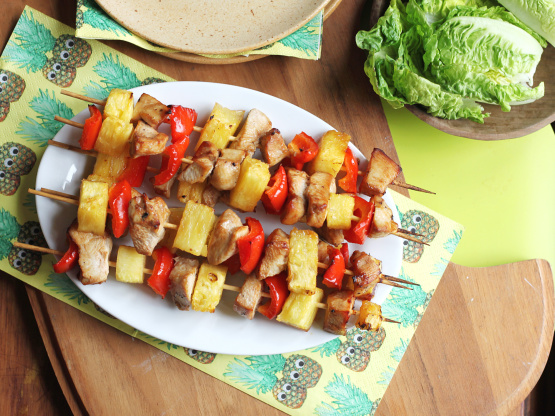 This is a dish that I made up as I went along! It's easy and uses ingredients that most of us have on hand. There is probably enough marinade for twice the amount of chicken. I wasn't going to have a chance to stir the chicken so I wanted to make sure that it covered all of the chicken. I served this over brown basmati rice. The marinating time is not included. ****NOTE: I do not recommend marinating this for more than 2 hours. I find it gets a grainy texture if marinated too long. Enjoy!
Giving it 5 stars though I made a semi-significant change and forgot an ingredient! That's a good recipe when it still works :). Used a fresh sliced pineapple (on sale for $.99 now) and boy was that nice. The big change was I used shrimp instead of chicken, and it works well, though you want to be careful with the marinade time - adjust for the size of the shrimp. An hour is probably plenty for average size. Forgot the mustard but there were no complaints. Served with brown rice and that was it!
Mix all marinade ingredients and add chicken. Marinate for 1 to 2 hours, no more.
If you are using wooden skewers, be sure to soak them in water for 2 hours.
Heat grill to medium-high.
Alternate chicken, pineapple and pepper pieces on skewers. Place on grill until chicken is cooked through, about 5 minutes on each side.