Nif's Great Grilled Potatoes
teresas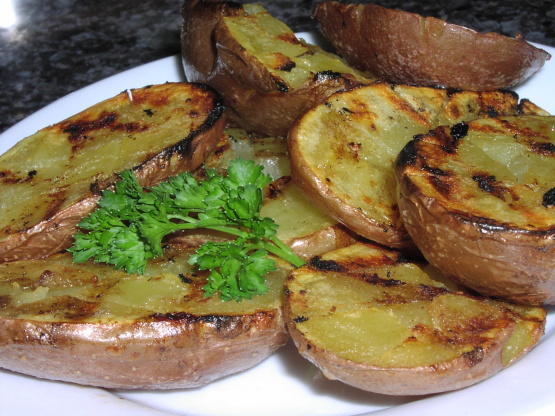 A quick side dish to whip up while you are making your grilled meat! Enjoy!

Quick and easy and we loved these potatoes. I used Paula Deen's 'house seasoning' (salt, pepper, garlic powder) on them and found that if you gently twist the potato after spooning on the butter, the cuts 'open up' and the butter drips right down into the crevices. We loved how crispy they got on the grill. Kept the house cool....did our entire dinner on the grill! Thanks for posting this recipe Nif :)
Half bake the potatoes in the microwave. Cut them lengthwise, making sure to cut them the way that will make them sit flat. Make criss-crossed cuts about 3/4 of the way in the flesh of the potato - don't cut through!
Mix all other ingredients and drizzle over the potatoes, a couple of teaspoons at a time so that it soaks into the potato.
Prepare a grill to medium heat and place potatoes on upper rack in BBQ. If you don't have an upper rack, you can turn the grill to low but watch so that the potatoes don't burn. You can also make little foil nests to place them in by wrinkling up some foil underneath each one.
When you can see that the butter mixture has soaked in and the potatoes look fully cooked, turn them over to add grill marks - only a couple of minutes.