Nif's Eggstremely Easy Egg Salad
loof751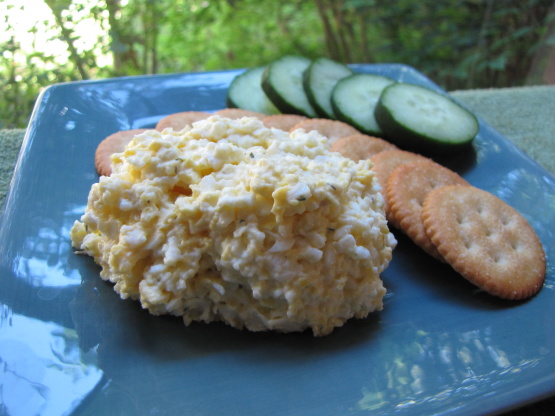 OK, so the name is a little goofy, but this is really a good egg salad. This recipe is for average-sized sandwiches. I didn't count the boiling time for the eggs. I try to always have a few ready to go in my fridge. Enjoy!

Egg salad is a favorite. Loved the addition of fresh dill. I doubled the amount. Made sandwiches along with a side salad for a simple delicious lunch. Thanks for sharing.
6

eggs, hard-boiled
1⁄4 cup reduced-fat mayonnaise

1

teaspoon fresh dill, chopped (I use more)
salt and pepper
Put eggs in a bowl and mash them up with the back of a fork. Add mayo and dill and mix everything together. Salt and pepper to taste.
Put in a sandwich with crisp lettuce and cucumber or place a scoop on top of your salad.