Nif's Eggnog Banana Bread
Julie333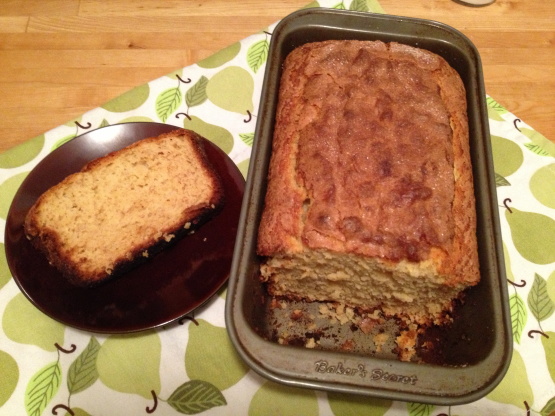 I got a new stand mixer for Christmas and I just had to use it! I modified an old banana bread recipe to make it more "festive" and this is what I got! There is not as much banana flavour as typical banana bread but it's there! Also, skip the rum if you want to. I didn't list specific stand mixer instructions, but I did use it on medium to do the mixing. I hope you like it. Enjoy!
This smells sooo good cooking with the cinnamon/sugar topping! I love the subtle taste and the you can still taste a little banana. Made for PRMR.
Preheat oven to 350°F Grease a large loaf pan.
Beat eggs in large bowl. Stir in sugar, oil, banana, eggnog, rum, and vanilla.
In another bowl, combine the flour, pudding mix, baking powder, salt, and nutmeg. Stir into eggnog mixture, just until mixed. Pour batter into prepared loaf pan.
Mix sugar and cinnamon and sprinkle over batter.
Bake bread for 40 to 60 minutes, or just until a toothpick inserted in the center comes out clean.
Let cool in pan for 10 minutes, then turn out onto a wire rack, and cool completely. Wrap tightly, and store in the refrigerator.