Nif's Creamy Macaroni and Cheese (Bake or No Bake)
diner524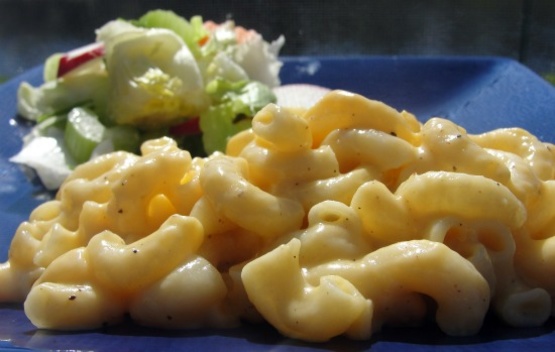 This simple comfort food dish is great on a cold night. If you don't want to bake this, just read the note at the bottom of the instructions. Also, if you are not baking it, take 20 minutes off of the cooking time. Enjoy!
Great way to change up the classic mac and cheese. I loved the added flavor from the chicken bouillon to the boiling water and the added seasoned salt, both new for me. I chose not to bake it, just served it with the sauce. I scaled this back for 2 servings and enjoyed it with salad for lunch. Thanks for sharing the recipe. Made for PRMR Tag Game.
Preheat oven to 375°F.
Bring water to a boil and add chicken bouillon. Cook pasta in water for 1-2 minutes LESS than the package instructs. You want it to be more al dente than what you would typically cook it to.
Meanwhile, add butter, flour, garlic powder, seasoned salt and pepper to a saucepan. Stir together until butter is fully melted. Whisk in milk and stirring constantly, bring to a boil. Remove from heat and stir in cheese until melted. Set aside.
Strain pasta when done. Return to pot and stir in cheese sauce.
Spray 4 litre (4 quart) casserole dish and pour in pasta and cheese sauce.
Sprinkle breadcrumbs over top and bake for 20 minutes.
*** If you don't want to bake this, cook pasta to desired doneness, mix with sauce and serve.