ponygt20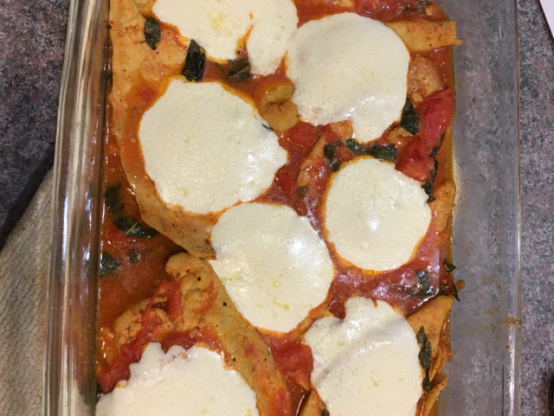 Caprese salad is one of my favourites - it's so simple and celebrates great, fresh ingredients. I wanted to use chicken and had the ingredients for caprese salad so I decided to mix the two! It makes its own wonderful sauce, just using a few ingredients. We had this chicken dish with some simple buttered pasta. Enjoy!

I made this recipe for dinner guests and it was great. Best of all, it was quick and easy. Thanks for posting this keeper recipe, NIF!!
Heat olive oil over medium-high heat in a nonstick pan. Season both sides of chicken breasts with salt and pepper. Add chicken to pan and brown, about 2 minutes per side.
Cut 1/2 of the tomatoes in half and add all tomatoes to the pan. Cover pan, turn to medium and cook for approximately 3 minutes per side. Remove lid and add basil. Cook until chicken has reached an internal temperature of 180°F.
Slide chicken and tomato mixture into an oven proof dish. Add 1 slice of mozzarella to the top of each breast. Place under broiler and heat until cheese has just started to melt. The time really depends on the heat of your broiler.
Remove chicken from oven and drizzle with Balsamic vinegar.