Nif's Cheesy Garlicky Smashed Potatoes (Bbq or Oven)
ImPat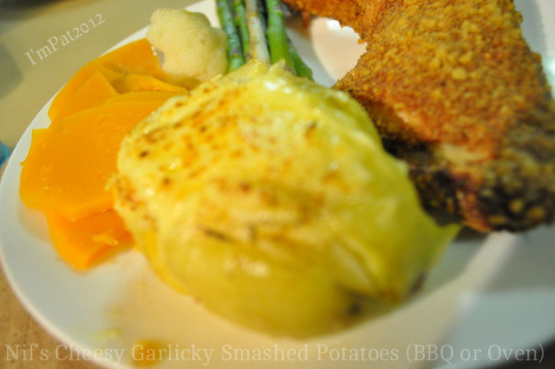 Another last minute creation! Sometimes people call mashed potatoes "smashed" but these are really smashed! You can make this in the oven or on the BBQ. Use whichever spices you want and your favourite kind of cheese. Very easy and very tasty. Enjoy!

Top Review by ImPat
I did make these ahead and really appreciated the use of the micorowave and used the oven method to fisnish them off. I used double foil thickeniess and followed as per recipe and baked them at 175C fan forced for 20 minutes and they were warmed through but I thought they needed colour so took a blow torch (with some trouble) to try and give that colour but the taste overall was great and thoroughly enjoyed, Thank you Nif made for Went to Market tag game.
Poke holes with a fork in the potatoes and microwave until cooked through.
Meanwhile, lay out 4 large pieces of tin foil. I always use the nonstick kind but you can use nonstick spray.
Stir garlic into melted butter.
When the potatoes are done cooking, place 1 on a piece of foil. With the side of a mallet or with a rolling pin, smash the potato! Not too hard, or you will redecorate your kitchen but hard enough to make it about 1" thick.
Spoon on 1/4 of the garlic butter, sprinkle with seasoning salt and sprinkle with 1/4 cup of cheese.
Fold foil over the potato, enough to completely wrap it up.
Repeat steps 5 and 6 with the remaining potatoes.
Place foil wrapped potatoes over low heat on the BBQ. I find it hard to list a cooking time because grills cook at such different speeds. You might want this to end up crunchy on the bottom or just heated through. You decide! Just take a peek ever few minutes.
If you have other items on the grill that you are waiting for, you can put the potatoes on the top grate. They also stay hot for quite some time.
If you're cooking these in the oven, I wouldn't put them in there for any temperatures higher that 375°F Take a peek after 10 minutes and remove when you see how you like them done.