Nif's Cheesy Fresh Herb and Garlic Bread
gailanng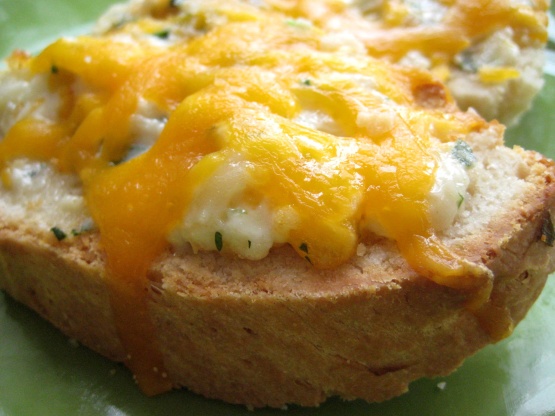 I came up with this because I had some fresh herbs on hand and wanted to make garlic bread. This is what I got! You can also use a teaspoon of each kind of dried herbs if you don't have fresh, but it won't be quite the same. Also, use whatever cheese you have on hand - this is just what I had. I hope you like it. Enjoy!
Cut bread in half horizontally. Open loaf.
Mix mayo, butter, garlic, rosemary, basil,parsley, green onion, salt and pepper.
Mix cheeses together in a bowl. Put half of the cheese mixture in the mayo mixture and stir.
Spread half of the mayo mixture on each half of the loaf. Sprinkle remaining cheese on top.
I placed this over indirect heat in my BBQ for about 20 minutes, until heated through and the cheese was melted. I was cooking the steak on the other half of the BBQ so it was easy to keep an eye on it.
You could bake this in the oven at 350F, but I didn't want to list how long you would bake it for because I didn't make it that way. I would guess 15 minutes.