Nif's Bread Crackers in a Pinch
loof751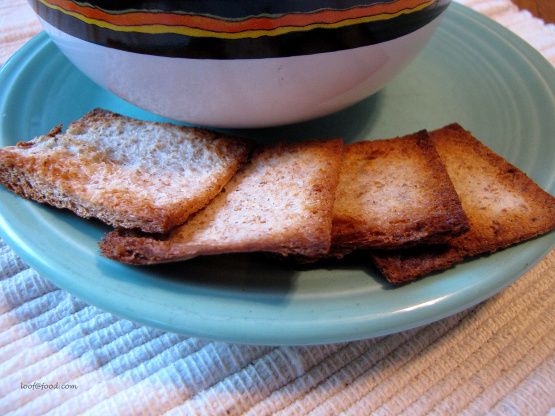 I was making appetizers for a work Christmas party and the idea that I had conjured up in my head was just NOT working! I looked around the kitchen and saw a loaf of bread. I needed something as a base for a couple of toppings that I wanted to use so this is what I came up with! No one could tell that they were bread shapes and they were very well received. Enjoy!

This recipe makes pretty good crackers! I tried to make sure that I put the butter mixture all the way to the edges of the bread but my crackers were still quite a bit browner on the edge than in the center. The great thing about these is that they could be flavored to match whatever you are serving them with (garlic, cumin, parmesan, dill.....). Great idea - thanks for sharing it!
1

loaf bread, sliced (I used whole wheat)
1⁄3 cup butter

1 -2

garlic clove (depends on how garlicky you like things!)
Preheat oven to 400°F Line a cookie sheet with a silicone pad, parchment paper or tin foil.
With a cookie cutter, cut out shapes from your slices of bread. You can use whatever shape but I used a smaller circle and they turned out great.
Pick up the cutouts and press them flat with your fingers, making them very thin like a cracker.
Crush the garlic clove(s) with the side of a large knife and add to butter. Melt in the microwave and the garlic will infuse the butter as it heats up. Brush each "cracker" with garlic butter and place on the cookie sheet.
Place in oven and turn over after 5 minutes. Bake for another 5 minutes. Keep an eye on them in case your oven cooks hotter than mine.
Top with preferred toppings.