Nif's Beach House Potato Pancakes
lazyme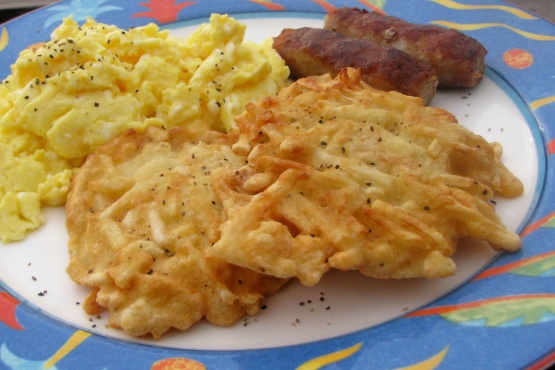 I came up with these when I was staying at my good friend Vicki's beach house on an inlet in Washington. Vicki may be known to you as Food.com chef - lazyme! A beautiful location with a gourmet kitchen, I just had fun coming up with dishes at the last minute. Keep in mind that the more oil you use, the crispier and tastier they will be. You can definitely keep them lower fat with less oil though! These would also be good as latkes, which can be a base for smoked salmon or other appetizers. Enjoy!
2 1⁄2 lbs potatoes, peeled, grated (I used the large grate attachment on a food processor)

2

eggs
1⁄4 cup flour

1

teaspoon black pepper, freshly ground
1⁄2 teaspoon seasoning salt (Johnny's was on hand)
1⁄4 teaspoon nutmeg
1⁄4 cup oil (vegetable or grapeseed)
salt and pepper
sour cream (to garnish)
Gently mix potato, eggs, flour, salt, pepper and nutmeg in a large bowl with your hands. Over medium heat, heat enough oil in a pan to coat the bottom of it. If fat is not a concern, add more oil. Repeat for every batch.
Measure the mixture in a 1/4 cup measure and place in frying pan. Gently flatten with the back of a spatula. Let cook for about 4-5 mintes on each side, until lightly browned.
Remove from pan and place on paper towels to soak up some oil. Sprinkle with salt and pepper to taste and serve immediately. You can also place them on a baking sheet and keep warm at 350°F.
Sit outside on the large deck, enjoy the gorgeous view and warm Washington weather and enjoy your pancakes! (If you can, of course!).