Nif's Bacon-Topped Moist Meatloaf Muffins
ImPat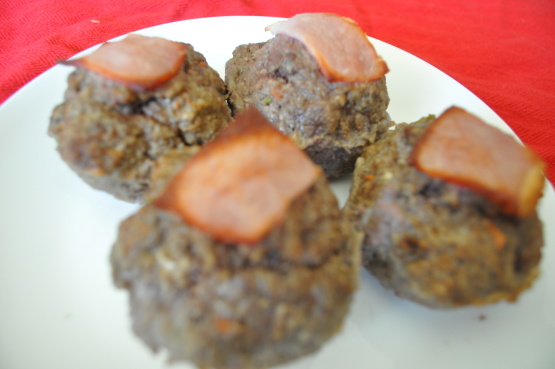 A quick dinner that I put together tonight. Super easy and tasty too! Enjoy!

Top Review by ImPat
A good easy mini meat loaf recipe and did love the addition of a bacon square was a nice touch (I used rindless near fat free bacon) and as we don't get Mrs dash here I used a Tuscan seasoning but only 1 teaspoon as it is heavy on the salt and when mixing even though I love balsamic vinegar I was wondering if it would over power the dish but it did not but overall we would have like a slightly more spicy taste but that is personal preverance but still a good quick mid week meal that I would recommend. Ours were cooked at 175C fan forced in just under 30 minutes. Thank you Nif, made for Please Review My Recipe.
Preheat oven to 350F and spray muffin tin with cooking spray.
Gently mix all ingredients, except for the bacon, with your hands in a large bowl.
Fill each muffin cup with meatloaf mixture. They should be almost full. Place 1/4 piece of bacon on top of each meatloaf muffin.
Cook for 30 minutes or until internal temperature reaches 165°F You can quickly brown the bacon under the broiler for a couple of minutes if you prefer.
Tip: After cooking muffins, pry each one out with a fork (or really any utensil) and set on top of the dividers between each cup. This lets the fat drain of a bit before placing on a serving dish.